Plastics have been essential part of our daily life. In fact, they will play a more important role as their uses diversify. There is no doubt that, without plastics, the further development of high-tech industries in modern society would be inconceivable.

NPK Co., Ltd., under the motto of ¡°solidarity, sincerity, hard work, and creative development,¡± has invested in ongoing research and tackled challenging projects. Our technologies and years of experience in the plastics industry allow us to push harder to get all our products recognized as the world¡¯s best.
We are investing more to support research and development to meet varying customer needs. Recently, we have developed our own source manufacturing technology for a variety of nano-chemical materials, such as conductive ink, antibacterial agents, nano-particles, and nano-paint.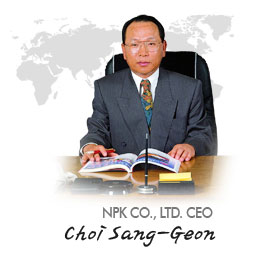 The company is working hard to become a distinguished expert at RFID and USN total solutions through the manufacturing of RFID tag antennas using conductive ink, and through the development of such software as RTLS and middleware.

NPK Co., Ltd. is dedicated to accomplishing its goals to quickly respond to the fast-changing global economy and brace itself for a new age.